Smooth and sensuous.
Introduction
The BMW Z4 , which replaced the Z3, has shaken if not rocked the sports car world, mostly with its dramatic styling. But a potential buyer can use his or her eyes, make his or her decision and move on to the objective qualities. Because sports car buyers are enthusiasts, those would be engine, transmission, ride, handling and brakes.
The Z4 excels in all of those areas. Interior comfort and convenience are also important qualities, and the Z4 scores high in comfort and nearly as well in convenience, considering the quality of its soft top with glass window and defroster; it's easy to operate manually (standard) and if that's too much trouble, one finger will raise and lower the available power top.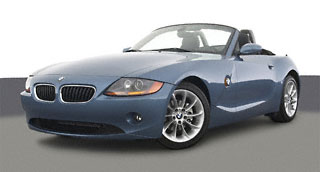 Lineup

The Z4 Roadster can be had with two engines, both inline six-cylinders, offered in models called the 2.5i ($34,300) and 3.0i ($41,300). The 2.5i has a 2.5-liter engine that makes 184 horsepower and comes with a five-speed manual gearbox. The 3.0i is 3.0 liters, 225 horsepower, and uses a six-speed. The 2.5i gets 16-inch tires and the 3.0i 17-inchers. Both models are available with the five-speed automatic transmission with Steptronic manual mode ($1,275). Also available for the 3.0i is BMW 's six-speed Sequential Manual Gearbox ($1,500), which is a manual transmission with no clutch pedal, controlled by electronics.

The base model 2.5i comes standard with cruise control, power windows and locks, a six-way power driver's seat, leatherette (vinyl) upholstery. But it's missing some options that many buyers choose in the Premium and Sport Packages. It's possible to option up a 2.5i model to the price of a 3.0i, which includes not only the bigger engine but leather upholstery, cruise control and a premium sound system.

Important standard features for both models include ABS, stability control, dynamic brake control and brake proportion control, traction control, run-flat tires, front and side airbags, and rain-sensing wipers; plus the usual convenience features including remote entry and a sound system with in-dash CD. The standard soft top with heated glass window is manual.

The Premium Package ($3,200) includes the fully automatic top, automatic climate control, eight-way power driver's seat with memory, the on-board computer, BMW Assist and small storage nets. Leather upholstery ($1,150) and a cloth and leather combination ($850) are available. The Sport Package ($1,300) includes 17-inch wheels, fog lights with heated mirrors, sport suspension and Dynamic Driving Control, activated by an "S" for Sport button, which quickens the throttle, steering and shifting of the automatic transmission. Similar packages for the 3.0i cost less because there's more standard equipment, primarily the leather and sound system.

Stand-alone options for the 2.5i include the eight-way power seats ($995), M sport seats ($450), heated seats ($500), automatic soft top ($750), fog lights ($260), Xenon headlights ($700), navigation system ($1,800), BMW Assist ($750) and the premium sound system ($875).

Additional accessories available from your BMW dealer include a hard top ($2,575), an aerodynamic kit with a serious-looking front air dam ($1,164); an ugly curvy rear spoiler ($220); wind deflector ($185); and two sets of wheels: handsome 20-spoke "turbo-blade" 17-inch wheels ($1,391), the same wheels that are in the 2.5i Sport Package; and an 18-inch set with five spokes, showing most of the brake rotors ($2,240).

The BMW Z4 Roadster succeeds as a replacement for the Z3 with room to spare. Its styling is controversial, but that's a buyer's call to make; like it or not, it's dramatic. The 2.5-liter engine is supremely sweet and fast enough to be worthy of the rest of the car's good qualities, in particular handling, ride and brakes. The 3.0-liter engine offers the power a performance-minded buyer would need, along with a six-speed gearbox. The power soft top makes the Z4 totally comfortable and civilized. At a base retail price of $34,300 with leatherette interior and simple manual top with one-handed release, an entry-level Z4 is an affordable and excellent BMW sports car with all the BMW engineering strengths.

New Car Test Drive correspondent Sam Moses reports from the Columbia River Gorge.