6 Jay Leno Cars
By Patrick Rowlings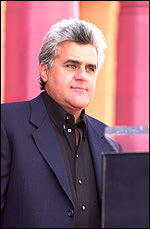 What does the host of The Tonight Show drive? Whatever he wants. Jay Leno has been collecting and restoring cars since he was 14, when he restored a 1934 Ford V8 Truck. Since then, the comedian has managed to collect over 30 classic cars. To get your motor running, here's a list of what I think are the six hottest rides in Jay's garage.
1- 1966 Ford GT40
When Ford sent the GT40 to Le Mans, France and it took home three titles, it put the car manufacturer on the map. True, Ford was already a well-known company in the '60s, but being the first American entry to win at Le Mans meant that Ford had secured its place right up next to the European sports car designers. Only 126 GT40s were ever built, but that didn't stop Jay from getting one.

The Ford GT40 has a 40-inch height -- not much, even by racing standards. Nonetheless, there's a lot of power packed into the small frame. It set the record at Le Mans with an average race speed of 124 miles per hour. That's not just fast, that's fast and tough.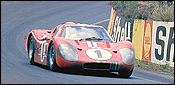 Best feature: Aside from being Jay's top pick for best-looking American sports car , the GT40 is known for its super-fast average speed.
2- 2005 Mercedes-Benz SLR
This car comes from good lineage. The SLR can trace its origins to three predecessors: the 1955 SLR roadster, the classic Uhlenhaut Coupe and the Formula 1 Silver Arrow racecar. The 5.5-liter V8 engine is hand-built, and the SLR pumps out over 600 horsepower.
But better than the sheer speed on tap in the SLR, is its use of Formula 1 technology, notably in the body. The SLR is made of the same carbon fiber composite used in F1 cars, making it stronger and safer.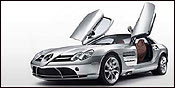 Best feature: I love the gullwing doors on this car. The front hinge gives you the ability to park it anywhere and not worry about tight spaces. Of course, Leno has his own spot at NBC, and he probably uses the valet everywhere else he goes.