Sporty coupes at affordable prices
Introduction
Enjoyable performance, attractive pricing, and good build quality make the Hyundai Tiburon a compelling choice among sport coupes.
The Tiburon GT is a quick and agile sport coupe. It's powered by a 2.7-liter V6 with a brusque exhaust note putting out 172 horsepower and complemented with crisp handling that makes it fun to drive. The Tiburon GS comes with a low-emission four-cylinder engine with adequate power for all traffic situations, and good handling that benefits from its sporty chassis design. Compelling pricing makes the Tiburon an attractive proposition. The Tiburon costs substantially less than a comparably priced Mitsubishi Eclipse , for example.
Hyundai freshened the front-end styling for 2005. There are no significant changes for 2006, though some option packages have changed and there's a new GT Limited model.
Hyundai has emerged as a low-cost producer of attractive cars with performance and panache. The quality of its products has improved tremendously in the past few years and Hyundai offers the best warranty in the business: 5 years/50,000 miles bumper-to-bumper and 10 years/100,000 miles for the powertrain.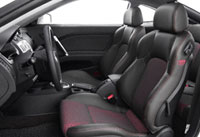 Walkaround
Sleek and compact, the Hyundai Tiburon looks somewhat like the shark for which it is named. Hyundai's designers accented the front fenders with vertical louvers that look like shark gills. Subtle styling revisions freshened its appearance for 2005.
Tiburon is heir to classic GT coupes of the past, with a heavily raked windshield and a fastback coupe roofline that sweeps all the way to a high, abbreviated tail. Hyundai gave these traditional features a new look, however, with a distinctive sheetmetal crease that sweep upward and rearward from the front louvers. In the rear the fenders curve smoothly into the large, almost ovoid one-piece taillight clusters.
The rear styling is accented by a body-colored rear spoiler on GS and GT models that's so neatly integrated into the rear deck lines that it's almost unobtrusive. The SE has a larger rear spoiler, but it also sits low on the rear deck, supported by sleek fins sprouting from the fenders and ending just where the taillights start.
Interior
Tiburon's interior trim is dark colored in the current tuner style, but bright trim around the center stack and switch panels on the doors relieves what would otherwise be a somber look.
The dashboard sweeps across the width of the cabin with just a small instrument pod and two heater vents to break up its shape. The fuel and water temperature gauges separate the round tachometer and speedometer.
The stereo system is located in a flat center console panel with large knobs for heating and ventilation located beneath. The manual transmission shifter has a short throw and is well situated for smooth shifting. A proper parking brake is located on the left side of the center console, leaving room for a cupholder and a small storage tray.
The bucket seats are okay, but not as sporty as one might hope for, as they could do with more side support for spirited driving. We liked the cloth seats because they grip better and are cooler in summer and warmer in winter. Headroom and legroom are fine in front, on par with other cars in this class of sport coupes.
Like most sport coupes, the Tiburon is really a 2+2, not a four-seater. Realistically, the rear seats are better used for storage than for carrying passengers, unless those passengers are shorter than five feet.
The optional 360-watt or 440-watt Infinity and Kenwood MP3 stereo systems all feature six speakers strategically located and a large subwoofer in the trunk. Crank up the volume and you're enveloped in sound.
Storage space is quite decent, apart from the space taken up by the stereo's ground-pounding subwoofer. The liftgate opens wide and the rear seat is split 50/50 and folds down to add utility. A cargo net would be a helpful addition to help keep stuff in place when throwing the car around corners after a stop at the grocery store.