5 Cars You Can't Afford
-by Paul Anderson
It's always fun to dream. No matter how nice the car in your garage is, there's always one out on the market that seems cooler. Of course, there's a little problem called "lack of money" that prevents you from purchasing, say, a beautiful Aston Martin V12 Vanquish. But there's nothing wrong with fantasizing. With that in mind, sit back and check out these five rides, each with a shock value and sticker price that's off the charts.
1- 2004 Maybach 62
Base retail price: $357,000 US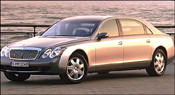 During the 1920s and '30s, carmaker Maybach was synonymous with luxury, wealth and prestige. Returning with a new line of automobiles in the 21st century, Maybach has continued this tradition of excellence, best seen in their 2004 62 model.
The 62 is a masterpiece on wheels. Under the hood, the 5.5-litre, V12 543 hp turbo engine can develop enough power to launch a rocket. To control this beast and the Maybach's sprawling 242-inch frame, there are several technological innovations at your disposal. Test the electro-hydraulic Sensotronic Brake Control, the electronic Airmatic DC air suspension system and the Linguatronic voice control program.
When you sit in this Maybach, you'll know you've made it. The 21-speaker surround sound Dolby system will make any music sound crystal clear, or give you the effect of actually being in a movie theater if you choose to watch a DVD on one of the 62's TV screens. Passengers are treated to the finest wood and leather interior, footrests, fold-out tables, a panoramic moonroof and two telephone handsets (optional). In all, Maybach provides buyers with, believe it or not, 2.2 million ways to equip their car. You can even order a sterling silver champagne goblet. With all the customization possible, orders for this mobile mansion take four months to process and, even with the astronomical price, the wait is worth it.
Distinguishing feature: Where would a $357,000 car be without a striking exterior? The Maybach's streamlined frame, front grille and curved headlights exude affluence.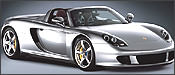 2- 2004 Porsche Carrera GT
Base retail price: $440,000

A new addition to the Porsche family, the GT already sits at the head of the table. It is a pure sports car, as every refinement, adjustment and design was made with performance, power and speed in mind. At the same time, Porsche engineers were able to give the GT a distinct, sleek exterior which will certainly cause passersby to get a serious case of whiplash.
Everything about this two-door speedster is impressive and, considering the price, it better be. The engine, a 605-hp V10, allows you to go from idle to 124 mph in 9.9 seconds. If you're on a racetrack (or the Audubon), you can push this baby to a top speed of 205 mph. Thankfully, the Porsche Ceramic Composite Clutch features a revolutionary design that helps control the V10 and the 6-speed manual gearbox is adjusted for racing specifications to allow for optimal performance.
The inside of the Carrera GT is just as sweet as what lies under the hood. For one, the driver sits in a cockpit , not the "driver's seat." The controls, steering column, chair, and dashboard are designed to give the driver the feeling he is truly in control of this vehicle. On the other hand, the red-brown leather upholstery, balsa-wood trims and integrated BOSE sound system are welcome features for passengers as well.
Distinguishing feature: Unique yet distinctly Porsche, the Carrera GT's design is worthy of note. The side outlets, rear intakes, spoiler, and conspicuous cockpit will certainly make an impression.