5 Cars You Can't Afford
-by Paul Anderson
3- 2005 Mercedes-Benz SLR McLaren
Base retail price: $400,000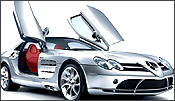 For the SLR, Mercedes and McLaren took an old concept and transformed it, producing a car for the ages. First-time viewers of the SLR are usually confused; from some angles, they see a familiar Mercedes and from other vantage points, this vehicle is totally alien. This mix of tradition and breakthrough design (and performance) is what makes the SLR so cool.
McLaren's background in Formula 1 racing heavily influenced the makeup of this car. Their biggest impact came in the design of the body structure, which is made up of lightweight carbon fiber. This means that the acceleration and power generated by the SLR's 5.4-liter, 617 hp V8 engine is that much peppier. In fact, with that monster engine and light frame, the car goes from 0 to 60 mph in just 3.8 seconds.
Of course, Mercedes stuck to a five-speed automatic for this baby, providing one slight change to adjust for the immense amount of power beneath the hood. The driver can select a "comfort," "sport" or "manual" level of transmission, turning this automatic into somewhat of a paddle-shifting system seen in Ferraris.
As expected with a car that's reported to be worth more than $400,000, the interior is impeccable. Though designers had little room to work with in this compact 2-passenger coupe, they definitely maximized the space. The instrument panel, gearbox and dashboard are all perfectly mated to the leather-filled luxuriousness that Mercedes owners have come to expect.
Distinguishing feature: True to its F1 background, the SLR's outstanding asset is its power and acceleration. If you push the car above 3,000 rpm, 575 lb-ft of torque is generated, more than enough to push you back in your seat and hear the roar of the engine.
4- 2004 Rolls-Royce Phantom
Base retail price: $320,000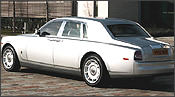 One word perfectly describes Rolls-Royce's Phantom: "stately." Proudly carrying the Rolls name, the Phantom boasts the luxury, power and comfort one has come to expect from the BMW-owned brand.
Beneath the Phantom's distinctly long hood lies the hulking engine, a direct-injection V12 that can produce 453 hp at 5,350 rpm. The engine is designed in such a way that, no matter what speed you're going, there's always a vast reserve of power available. This means that, up to a maximum speed of 130 mph, you can accelerate powerfully with ease. Since it's primarily a cruising vehicle , the six-speed automatic transmission allows for relaxed driving with maximum control.
The Phantom's kick is just the first impressive feature. For more "wows," step inside. The heavy doors make a resounding thump when closed, making people feel extremely safe inside this luxurious fortress. There is a substantial amount of legroom for all five passengers, who will feel that much more comfortable when riding on the laser-cut leather seats . A choice of six wood veneers, lambswool rugs, a blended cashmere/wool headlining, and Art-Deco interior lights highlight the rest of the Phantom's styling.
Impressively, despite all this posh design and power, the Phantom manages to have much more than just a basic exterior. The stretched out snout, large front grille and ridged sides stand out, as do the Rolls-Royce rims and classy headlights.
Distinguishing feature: Many would point to the Phantom's luxury as its defining asset, but it's the incredible power (note the purr when you accelerate) that makes it a truly awesome vehicle.
5- 2003 Ferrari Enzo
Base retail price: $643,330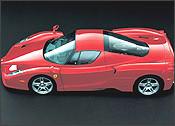 The most expensive car sold in America (according to Forbes ), the Enzo is pure pimp . It's an utterly beautiful piece of machinery and is living proof that true love between man and machine is possible.
Tested on Ferrari's racetracks but made for the streets, the Enzo suffers from an identity crisis. Is it a racing vehicle or a street-legal sports car ? If one looks at the car's mechanics, the former would tend to be a more realistic answer. As Ferrari's newest V12, the Enzo has an engine capable of delivering 660 hp at 7,800 rpm. You can push the speedometer all the way to 217.5 mph and the 0-to-60 time is a mere 3.3 seconds.
The aerodynamic design of this car is also closer to that of an F1 racecar than a regular sports car. The aggressive front overhang, small rear spoiler and side intakes minimize wind resistance, while the underside of the Enzo features several fins to direct the air currents.
Ferrari's flagship automobile has more racing features inside as well. The carbon-fiber interior and dashboard are extremely driver-centric, ensuring that every control is easily accessible. Even the driver's seat, a form-fitted carbon fiber racing seat, is designed as if Michael Schumacher were driving it.
There is one final element of the Enzo that is worth mentioning. The transmission is in the form of paddles placed behind the steering wheel . The paddle-shifting system is also linked to two-gear change modes (Sport and Race) mounted on the steering wheel. This set-up allows for quick shifts and adjustments, cutting gear change times to just 150 milliseconds.
Distinguishing feature: Without a doubt, the Enzo's intense power is its best feature. The powerful engine, 660 hp and maximum speed in excess of 200 mph is very impressive.