7 Best American Sports Cars
By Thomas Bey
The old tagline, "Baseball, hot dogs, apple pie, and Chevrolet," could easily include Ford, Dodge, Pontiac, or virtually any domestic auto maker. Cars are an integral part of American culture, and domestic sports cars are even closer to our hearts.
Compiling our favorites was no easy task, so we set some ground rules. To make our list, a car must have had final assembly in North America, could not be single model-year special editions, must have a street-legal version (whether or not a racing version was made), and, of course, had to be a hit with critics and enthusiasts -- then and now.
1- Chevrolet Corvette
Top model years: 1955-1975, 1997-present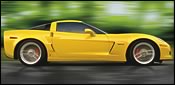 It isn't by accident the Corvette is known as "America's Sports Car." What began as an underpowered underdog over 50 years ago soon gained power, sales and iconic status. Through six generations, the Corvette has evolved with the times. We've driven today's car, also known as the C6, and can confirm that it's the best 'Vette yet. Few sports cars from any country offer this degree of thrust (400 horsepower), handling and -- at last -- build quality for the price.
What's more: For the wealthier and power-hungrier, the even hotter Z06 offers 505 horses to further risk loss of driving privileges.
2- Chevrolet Camaro/Pontiac Firebird
Top model years: 1967-2002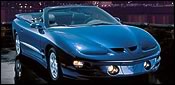 To divert would-be Mustang buyers in the late '60s, GM gave birth to a pair of twins christened the Camaro and Firebird -- and who doesn't dig twins? That fueled a tire-smoking rivalry with Ford that would continue for more than three decades. Throughout their lifespan, the Camaro and Firebird stood for performance on a budget. This probably contributed to their reputation as preferred rides of mullet men, though it's not completely fair. Slow sales led to their mercy killing in 2002, but not before they had left their marks -- in history and on pavement.
What's more: Given Ford's neo-retro Mustang success, rumbles hint at a Camaro revival in the coming years. We think it would look great on the Pontiac GTO platform.