7 Best American Sports Cars
By Thomas Bey
3- Ford Mustang
Top model years: 1964-1973, 1997-present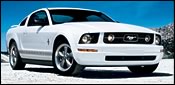 The inclusion of Ford's Mustang among heralded cars is as obligatory as the inclusion of Bruce Willis among action-flick heroes. Like Bruno, the Mustang has made a few miscues in its career (namely, the Mustang II of the '70s). But that's done little to tarnish a legacy that's mostly positive with such a wide audience. Competitors have come and gone, yet the original pony car is stronger than ever -- especially with the 2005 redesign.
What's more: The addition of the separate Pony and Cobra packages broaden the Mustang's appeal.
4- Ford Thunderbird
Top model years: 1955-1957, 1983-1997 SC model, 2002-present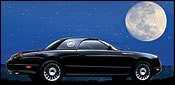 To qualify for our list, we had to exclude a lot of Thunderbird model years -- in fact, most model years. But the T-Birds remaining are what we consider to be gentleman's sports cars . It was an instant hit when it hit the street in 1955, and for the first three years was one of the hottest domestics you could buy. Years of frumpy cars later, the Super Coupe variant of the 1983 redesign made a strong statement. Then, after a few years off, the Thunderbird returned in neo-retro form in 2002. For its targeted demographic, it remains an American icon.
What's more: The newest Thunderbird had a cameo in 2002's Die Another Day , driven by Halle Berry -- although I completely understand if your eyes were on her more than the car.
5- Pontiac GTO
Top model years: 1964-1973, 2004-present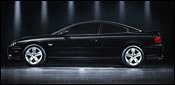 Many consider the Goat to be the first real muscle car, even if the name was borrowed from Ferrari. When Pontiac dropped a potent V8 into a mild-mannered coupe , the American GTO became as notorious as its Italian namesake. Pontiac wisely discontinued labeling their cars as such when horsepower nosedived in the '70s, and just as wisely revived the legend in 2004. Some criticize the new car's understated design, but we think it's a far cry better than Batmobile-esque Pontiacs of just a few years ago. And remember, the original GTO entered life with plain-Jane looks, too. If history continues to repeat itself, the car will become even more potent and distinctive in the coming years.
What's more: Some suggest a hotter "Judge" edition is on the way.