Passion doesn't always fade with age.
Introduction
A long time ago from a country far, far away came open-top two-seat sports cars bearing now-forgotten names like MG, Triumph, and Lotus . They were frisky, affordable, and fetching, save for one minor detail: they shed parts like tabby cats shed hair. Not the most profitable, either. Few expected this segment to be revived (least of all by Mazda ), but just before the sun set on 1989, along came this rolling Tylenol gelcap with made-in-Japan quality and a roadgoing personality so vivacious that it became "an extension of your body." It called itself Miata , a name that came to redefine "affordable sports car" and earn an entry in the Guinness Book of World Records.

But 16 years is a little long for any car to stick around, and anyway, Mazda just invested a billion or two in that new RX-8 a couple years ago. So taking advantage of that, Mazda used its significantly newer and stiffer platform, fiddled with the parts a bit, chopped the top, and gave us a normal piston engine. Here we are with a newly modernized Miata - though its official new name is MX-5, much to the chagrin of the faithful.
With five models to choose from, MX-5 shopping just got a little more complicated. It starts with the Club Spec kicking off the line at $20,995, followed by the standard MX-5, Touring, Sport, and Grand Touring at $21,995, $22,995, $23,495, and $24,995. For the moment there's also a Limited Edition with Velocity Red Paint and unique wheels for $27,260, but let's get serious now.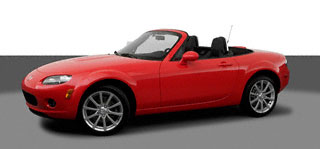 Even the Club Spec has power windows and mirrors, CD, and antilock brakes, but it takes the regular MX-5 (+$1,000) to get air conditioning and a leather steering wheel.

From there, MX-5 Touring (+$1,000 again) puts remote controls on that wheel and adds power locks, keyless entry, cruise control, fog lights, and silver seatback bar trim. From this point forward, the 6-speed automatic transmission (with manual paddle shifters) becomes an $1,100 option.

MX-5 Sport (+$500) is the point where the manual transmission gets six speeds instead of five and the car gets 17-inch alloy wheels instead of 16s, plus a front shock tower bar and a leather shift knob.

Top-dog MX-5 Grand Touring (+$1,500) adds the Bose 7-speaker stereo (up from 4), black/tan cloth convertible top (up from black vinyl), black/tan leather seats (up from black cloth), and silver interior trim pieces.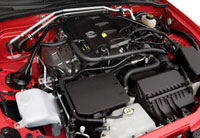 Four major options exist. The first two are the Appearance Package (front air dam, side skirt, rear underskirt - $1,145) and Interior Trim Package (aluminum/leather shift knob, aluminum pedals, and misc aluminum pieces - $435), both optional on all MX-5s. When you get up to MX-5 Sport, you can buy the Suspension Package: sport-tuned Bilstein shocks and limited-slip differential for $500. Finally at the Grand Touring, there's the Premium Package: HID headlights, traction and stability control, limited-slip differential, alarm, and Mazda 's Advanced Keyless Entry & Start System for $1,600. That last item replaces the neat Volkswagen-style jackknife flip-out key with a credit card-looking item that can fire up the engine remotely. Stand-alone items include 6-disc MP3 CD changer ($500), Sirius satellite radio ($430), spoiler ($350), floor mats, mud guards, etc.

About those transmissions, by the way, both the first and last gears on the 6-speed stick are shorter (numerically higher) than the corresponding gears in the 5-speed - 3.82 and 0.83 instead of 3.14 and 0.81 (all trannies share a 4.1:1 final-drive ratio) - so don't get the 6-speed expecting to save gas. And those of you who lug down the MX-5 with an automatic lose 4 horsepower. Serves you right.

The middle-line MX-5 Touring seems to have everything most people would want, and at $22,995 it lands very close to its only remaining rival, the brand-spankin-new Pontiac Solstice (with an equal load of options), which awaits our full evaluation. If that sounds like a lot for a two-seat toy, try naming other removable-roof sports cars with rear-wheel-drive, high-tech engines, and real suspensions. The next cars on that scale are the $35,000+ Nissan 350Z and BMW Z4 , which can clear the quarter-mile in less time but have the upper hand in few, if any, other areas. They also get about 10 MPG less, dent the dirt with 800 more pounds, and give back zero in practicality. Knowing all this, knowing the low gas bills, and keeping in mind the old Miata 's squeaky-clean repair record, how can you call the MX-5 anything but practical when speaking financially?
Think it through and you should realize what Miata owners knew all along: this car is invincible in terms of fun-for-the-buck, especially over time.