Firing on no cylinders.
Introduction
If there's one sports car we never thought we'd see again, it's the Mazda RX-7. With a high retail price, shifting consumer tastes, dwindling corporate cash, and unit volume-obsessed bosses at Ford calling the shots, all odds were against it. Well, the odds won, we never did see an RX-7 again and we probably never will. We'll just have to make do with this RX-8 .

The RX-8 differs sufficiently from that last rocket sold back in - wow, has it been that long? - 1995 to warrant the new digit. Four seats in a sports car? Tsk. And four doors, too? Double tsk. The pop-up lights were deep-sixed, the suspension was softened, and the turbo's gone. Fattening it up and slowing it down - hey, what kind of sports car is this? We'll address that in a moment, but at least the latest Mazda to wear the RX name continues the proud tradition of carrying an engine that routinely provokes the question "what the hell?"
Here's a tip that should save you six-foot-plusers a lot of time: stay away! Speaking as someone who falls four inches south of that mark, I fit, but I also have vivid memories of a track event where I raced 20 different cars and the RX-8 was the only one with headroom so intolerable that my helmeted head banged on the roof pillars every time I turned a corner. Methinks Mazda misunderstands the type of pain sports cars are supposed to provide.

Two six-foot colleagues of mine who fit fine (though they sit reclined) insist they have no idea what I'm talking about, plus both of these cars had headroom-eating sunroofs. Just remember to sit before you spend.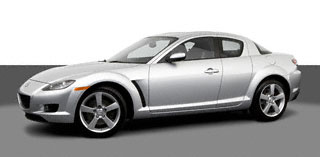 Now onto the rest. Would it surprise you to know that the sports car with both the best ergonomics and the most class came from Mazda? Well then, act surprised. It won't knock your socks off, but so far this RX-8 presents the only cockpit that manages to squeeze in some style without getting garish or breaking ergonomic norms. The operation of every switch is standard-issue, and materials feel fairly expensive. The thematic triangular rotor accents add some decoration, and if you ask me, it makes the shifter feel better, too. Mazda's ideal steering wheel returns in 3-spoke form, there are neat little disco reflectors in the map lights, and aluminum pedals are always cool. So is the Volkswagen-style Swiss Army Knife key/remote (though the trunk is way too easy to pop open by accident). And the RX-8 has to be the last surviving car with a power lock switch that makes sense: down for lock, up for unlock. The only flub is a trunk release button that took me a week to discover since it's only visible when kneeling on the ground. If you're wondering what's up with the parking brake, they were trying to make it look like a rifle reloader. Whatever.

The 9-speaker, 300-watt stereo from the Touring Package is one of Bose's better systems. Just hope it's good enough for you since, as on all other Mazdas, the integrated design mean all bets are off for aftermarket swaps. I'm sure I could live with the sound, not so sure I could live without MP3.

I didn't care for the digital speedometer at first but soon came to appreciate its advantages: both the tach and speedo stand directly in front of you, where they belong. With one digital and the other analog, you'll never confuse the two at a quick glance, and glances take very little time or thinking since the exact speed is read right to you. Meet the Mazda RX-8: digital done right.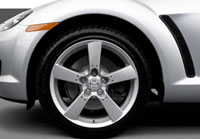 Aside from the headroom thing, no complaints with the front seats. Don't expect the same contentment with the rears. Access is easy thanks to those rear half-doors (which operate like a truck's: suicide style, and only after the fronts have been opened) but once back there, you'll notice the snug quarters. With the RX-8 being a small rear-drive car, it was wise to replace any possibility of a middle-rear seat with cupholders, a console, and an armrest for the other two. But all this extra stuff bisecting the seats adds to the walled-in feeling started by the small, far-forward windows. Don't think of the RX-8 as a family car substitute - four doors or not, it's still a "subcompact." Still, average-sized adults really do fit, and if it can't beat real sedans like the Impreza and Evo, it does beat the Mustang 's while Nissan couldn't even squeeze any seat in the back of the 350Z , and the RX-8 is lighter than all of them! And Mazda protects everyone with side-curtain air bags.

I'll let you decide if the extra doors' utility was worth the unsightly cut lines down the middle of the body and the obstructed visibility out the left-rear. No B-pillar means no rigidity was gained, either. The trunk is pretty small, too, though Mazda made the most of it by using expensive space-saving struts instead of hinges. Plus, I came to find the large rectangular indent really useful.
Fun, fast, practical, and entirely livable in the daily grind, it's hard to think of a better all-around sports car under $30,000 (if not $40,000) than the Mazda RX-8 , especially if you want a balance of attributes. Mazda's will have to stuff its old 2.5-liter V6 under the hood before I buy one, but if the rotary's for you, what are you waiting for?