6 Jay Leno Cars
By Patrick Rowlings
3- 1966 Shelby 427 Cobra
Jay calls it his favorite car from the '60s and, according to him, it can blow the doors off a Viper . That's probably why lucky owners treat the Cobra as more of a religion than a car. Cobra clubs proliferate all across the country, and kit cars are widely available for those who can't afford to buy the real thing.
It's a popular car for two reasons: looks and speed. This car is fast, very fast. Its V8 427 engine puts out 425 horsepower. That might not sound like much, but the Cobra has one of the best power-to-weight ratios around. Taken on looks alone, the 427 Cobra is an American classic.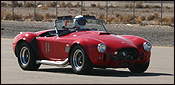 Best feature: We all love engines, but the body makes the car. The 427 Cobra has a tube frame, aluminum body and coil spring chassis that not only sets it apart; it puts it well ahead of the pack.
4- 2005 Ford GT
Since it's a Ford, let's start by looking at the engine. How does 550 horsepower sound? The GT comes with a 5.4-liter V8 that provides 500 pounds of torque. But this ride is also too sporty to be dismissed as just another muscle car .
The GT has a long, sleek design with great lines. But as good as it looks standing still, it looks even better zooming by. Just be sure to keep enough money aside for a few speeding tickets.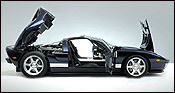 Best feature: I love the racing stripe option, which covers the hood roof and rear hatch. This is a hot car all around that takes us back to a golden age for sports cars, which is probably why Leno was the second person in the U.S. to buy one.
5- 1994 McLaren F1
The best car ever? That's what Jay says, and he should know -- he's one of the lucky few to own one. The concept behind this car was to give the driver racing quality performance that could be used every day.
The McLaren features a custom built BMW S70/2 engine that is a 6.1-liter, quad-cam, 48-valve V12. With all that artillery, the McLaren can shoot by the competition at a top speed of 240 miles per hour.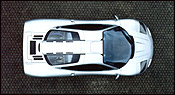 Best feature: To quote Jay, the McLaren F1 provides the "perfect example of form following function." This is a car built to do a job rather than look a part (although it does look hot). What really sets the McLaren apart -- and what makes it the best car ever -- is what it lacks. Look around and you'll see that this car doesn't need any modifications to make it go faster or perform better. This is the design that sets the universal benchmark for performance.
6- 1967 Lamborghini Miura P400
Jay said that he likes this car because Lamborghini's founder began his car company in response to a snub from Ferrari. When Ferrari refused to customize a car for him, Ferruccio Lamborghini went ahead and started his own company. Its history aside, there's a lot to like about this ride: Its V12 engine rockets out a top speed of over 170 miles per hour.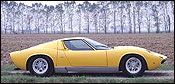 Best feature: The slated rear window gives a unique look to the Miura, and it's in just the right place. When you get dusted by a Miura, you'll know who beat you.