A reason to believe
Introduction
Chevrolet has introduced a new Corvette for 2005, and this sixth generation of America's sports car is better than last year's model in every way.
One truth of the auto business: you never know what the market will favor tomorrow. Sports cars, monster SUVs, and fadmobiles all seem to take their turns in the spotlight, and no one wants to miss out on the big bucks. Problem is, that light can vanish in, say, the time it takes OPEC to turn off the tap. For a company with limited monetary resources, there's always the question of where to invest the dough.

This seems to have been a favorite game of General Motors, whose resources are anything but limited. GM rode the truck-and-SUV tidal wave of the 90s at the complete neglect of their aging cars, whose primary purpose in life was to balance the Corporate Average Fuel Economy of the guzzlers. With each Suburban raking in five-digit profit numbers, who could care about the losses on those little Cavalier s?

Someone, apparently. Someone on the inside who knows that the tide can shift anytime - anyone seen the sales stats on SUVs lately? - or someone who remembered that many young, impressionable buyers start out at the entry-level. Maybe it was a visionary who saw past short-term profits and realized that selling hard-to-respect cars makes for a hard-to-respect company. Hopefully it's at least one of these reasons that, roughly 8,400 sunrises after the dawn of the Cavalier, inspired this all-new Cobalt from Chevrolet .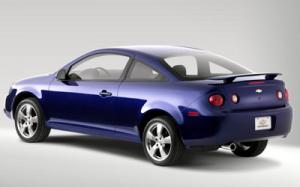 Other Thoughts

$14,190 buys the base model stickshift Cobalt , which comes with air, CD player, 15-inch wheels, and no power goodies. It's an extra $2,295 for the additions of the Cobalt LS : power windows/locks/mirrors, better front seats, map lights, floor mats, cruise control, keyless entry, alloy wheels, and antilock brakes. (Isn't it nice how ABS is standard on even the mid-level trim?) From an automatic LS, it's a final $1,425 to the automatic-only $18,760 Cobalt LT, which adds traction control, heated leather seats, leather wheel with radio controls, Pioneer stereo, and 16-inch wheels to its sedan-only body. All of those items can be added to the LS piece by piece. Unlike Saturn , Chevy doesn't charge extra for the coupe body.

Appealing to a different crowd is the Cobalt SS, armed with a smaller-but-supercharged 205-horsepower version of the Ecotec engine, a beefier 5-speed manual transmission (only), sport suspension, disc brakes, and 18-inch wheels. Leather everything (sans seat heaters) and the good stereo parts are standard on this $21,995 Dodge Neon SRT-4 challenger.

There's no Pontiac Sunfire equivalent anymore (except in Canada, where it's now called the Pursuit) and there's no Cavalier coupe or Z24. What really matters: a 2005 Cobalt LS starts $370 below a 2005 Cavalier LS. When each is optioned out the way I'd personally want - automatic, side air bags, good stereo, alloy wheels - the tab comes out to exactly $18,625 on both, but again, the Cobalt packs a bit more equipment. Charging less cash, for more stuff, on a better car? Any objections?

The MSRP advantage over competitors isn't too significant, though. A loaded-up Corolla , Civic , 3, and Focus each hover around $19K. Of course, the issue of rebates comes into play, but then, so does resale value, which by the way is more than a little bit connected. From where I stand, the Cobalt is a more accomplished car than the Ion, the Neon, the Sentra , the Forenza - maybe about level with the Elantra or Lancer - if behind all the others. In the What You See Is What You Get department, it rates mid-pack.

What you can't see are those two nagging questions that accompany any new car design, and might warrant a postpone in purchase. One is reliability, where GM's generally stabilizing quality collides with the flaws found in our test car. The other, again, is resale value, which has never been great. But all the myriad advances that took place in the Cavalier-Cobalt transition should give that number a boost, if there's any justice in the world.