Porsche picks up the pace.
Introduction
Statements like "this thing's faster than a Porsche !" or "that SUV takes corners like a Porsche!" have grown into callous clichés. But hear them enough times in reference to cars that dominate their peers in power and performance, and somewhere in the back of your head forms the notion that these Porsches everyone keeps talking about must have something going on. Porsches must be envied. Porsches must be kings.

They usually are. But eight years ago, Porsche returned to $40,000 territory with the Boxster , its first new car in two decades. While never less than a thrilling machine, the Boxster's performance was merely peppy instead of pulverizing. The passing of time showed the other three Germans, then an American, then a Japanese all nipping at its heels, often beating its pants off on several fronts. High on price, middling in performance and low on interior elegance, Porsche found itself turning into, well, the Lincoln of sports cars.

The wizards in Zuffenhausen decided to do something about it, so for 2005 the entry-level Porsche is back with more heat in the motors, more rubber in the wheel wells, and more sport in the suspension. It's also got a different look (if you look closely), some interior touch-ups, and one key new safety feature. It's ready for a rematch.
I thought I had a pretty good idea of what the Boxster would be about. I've driven a mid-engined car before and sampled horizontal ("boxer") powerplants before. This would just be some kind of Subaru-powered Toyota MR2 in fast-forward, right?

Wrong. Simple design decisions do not explain just how animated the Boxster can feel an obscure, twisty mountain road - a necessary setting to make such discoveries. The front end does feel a little light, but the delicate feedback is much more fulfilling than the almost ethereal helm of the MR2. Agility is unmatched: carving through the Angeles Crest Forest at 50 MPH is nothing, and jumping off the gas or on the brakes doesn't unphase the grip-tastic Boxster like some other mid-engined cars. And while the Boxster's steering ratio is variable (at low speeds, your hands work less to turn the car), there's no "getting used to it" factor as with BMW 's similar Active Steering. Transparency and pinpoint accuracy make the Boxster as smooth as your skills can handle.

The only thing to be careful of are random patches of sand that pull the rug out from under the Boxster and - watch out now! - suck you into a heart-stopping spin (the now-standard PSM stability control saves you). But speed while alert and the Boxster will never disappoint.

Tilting the laws of physics in your favor helps too. With that engine being in the center of the car and having its cylinders lying low and flat, inertial resistance to turning is nil and the center of gravity in this already-short-and-roofless car is cut down further. And Porsche keeps upping the stick, endowing even the base Boxster with tires of size P205/40R17 (235 in back). Optional are P235/40R18s (265 in back) that come standard on the Boxster S, and on that model stands the new option of 19-inchers! Note that all tires have a "40" profile (40% as tall as they are wide) and a dead serious "Z" speed rating - pretty serious rubber for a car that squeaks in at under 3,000 pounds - and note how the always-30-mm-wider rear tires compensate for the 53% rearward mass. Despite the slight bias for understeer (pushing wide of the turn) at the limit, it's no wonder the Boxster feels so balanced.

Acceleration always produces mechanical music, while a shifter that only reeks of positive engagement and a progressive, user-friendly clutch pedal mean you'll never get tired of shifting up and down the range. Keeping up the revs unleashes the flat 6 engine's 240 horsepower (up from 225), which has even this slowest-of-all-Porsches breaking 60 MPH in a tidy 5.9 seconds. Take it up to 159 if you dare, then erase all that speed through the powerful, readable antilock brakes. Whenever you're ready.

But one cannot play boy racer every minute. Truthfully, the Boxster's first impression isn't all favorable. The engine fires to life with a loud, raspy hum right behind your ears. Exiting your parking space proves a chore by hefty steering effort at low speeds, complimented by brakes that are stiff at all speeds. The 2.7-liter engine's ordinary low-end torque doesn't infuse the car with instant motivation. In the city, the long-throw shifter sort of feels like it's been doused in Krazy Glue.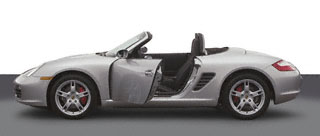 Ride quality is most flatteringly described as purposeful: the greatness of the handling may be worth the price, but you do take your lumps in the Boxster. And whenever you're not accelerating, which is most of the time, the engine goes back to humming-and-buzzing mode, audibly confirming every little motion of your right foot. That gets accompanied by pretty much every other noise, including a cheap wind blocker that's constantly rattling and the sound of other cars penetrating through the cloth roof. Despite impressively low cowl shake and very decent mileage (23 MPG), the Boxster is still a terrible cross-country car.

But city slogging and freeway cruising in a Porsche? If you were subjected to duties so far beneath your talent, you'd get restless and temperamental too.
In conclusion, with the Boxster bottoming in speed and topping in price, history has repeated itself. If there's any pride in being the Porsche of sports cars, it will have to come from the Boxster being the most satisfying to drive. Hasn't it always?